[Webinar] Impact study of a SIDI partner in South Africa, SEF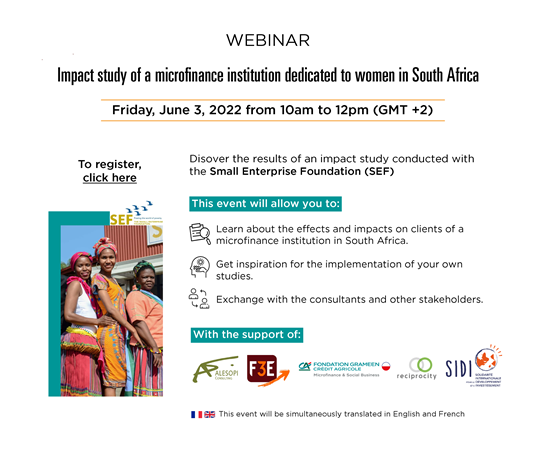 Webinar on the results of the impact study conducted with the Small Enterprise Foundation (SEF), an MFI dedicated to women
Take part in the webinar on June the 3rd from 10am to 12pm, with speakers of the SEF institution, which SIDI has been supporting since 2017, and of the consultants' team.
SEF is a socially-oriented microfinance institution in the rural region of Limpopo, in the north of South Africa, which focuses exclusively on supporting women, and currently has more than 200,000 women clients.
In order to better understand the impact of its services on women clients in economic terms, but also in social terms and from the point of view of gender inequalities, SIDI, the Grameen Crédit Agricole Foundation and the F3E network have financed an impact study, to be carried out in 2021, the conclusions of which will be made public during this webinar.
Share the post "[Webinar] Impact study of a SIDI partner in South Africa, SEF"
24 May 2022