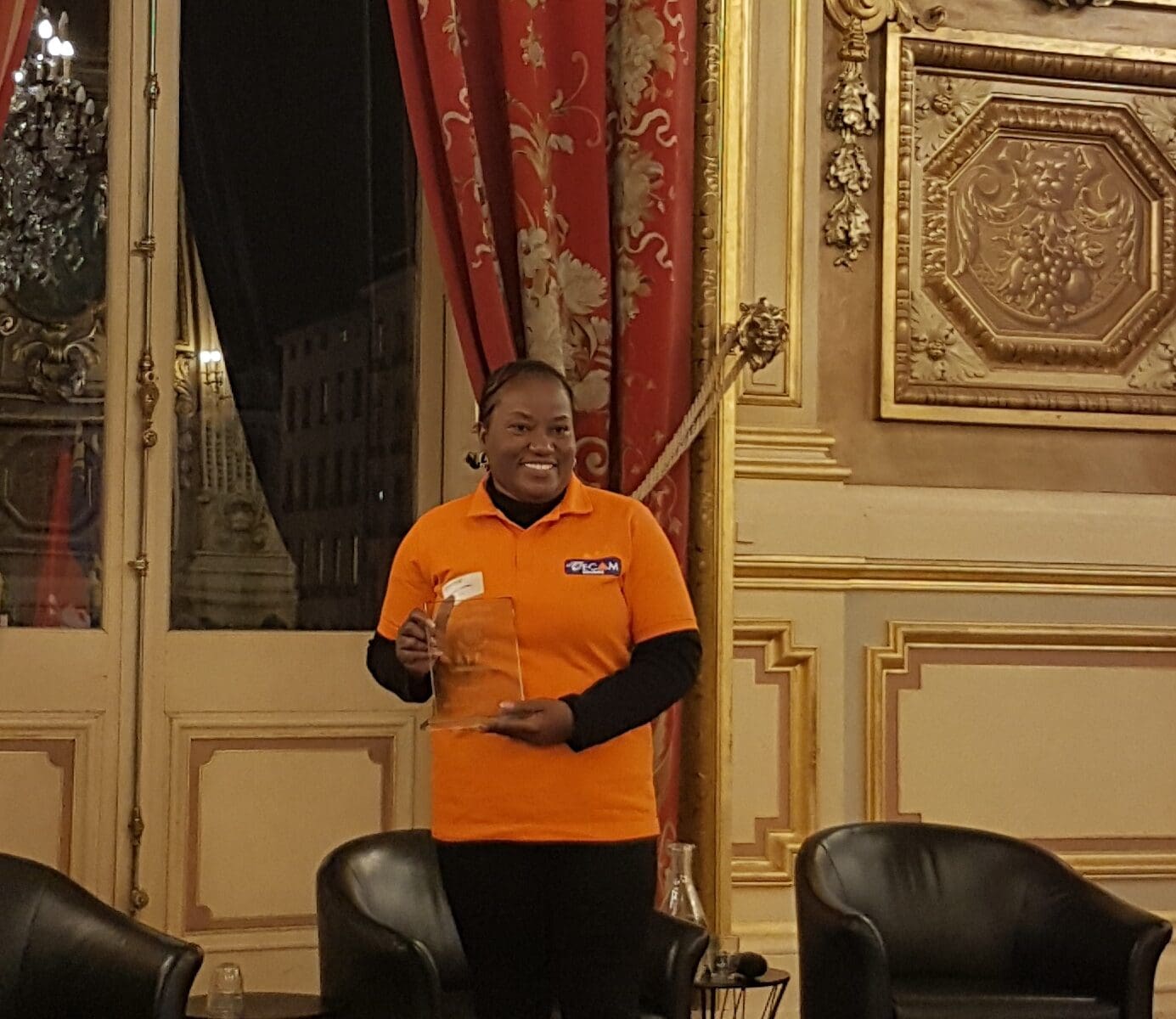 [chapeau]SIDI partner ECAM, a cocoa producers' cooperative, wins the International prize at the 12th Grands Prix de la Finance Solidaire organized by FAIR-Finansol and Le Monde newspaper. A highly deserved reward for this exemplary Ivorian cooperative in terms of both its social and environmental impact. [/chapeau]
Assata Doumbia, producer and president of the cooperative: "I'm delighted to receive this award for our cooperative. In Côte d'Ivoire, it's rare to find cooperatives with good governance. This prize also crowns all the work we've put into our governance. Today I'm very happy for the producers and for the whole community!
The Entreprise Coopérative des Agriculteurs de Méagui (ECAM) was created in 2004 on the initiative of 87 cocoa producers, including Assata Doumbia. A very dynamic cooperative, ECAM now has a membership of 2,466 cocoa farmers and, remarkably, 367 women. As cocoa is traditionally a "man's business", ECAM encourages planters to hand over part of their plots to their wives, enabling these women to become producer-members of the cooperative and thus securing their situation.
Solidarity finance has played a crucial role in ECAM's development, with the number of members more than doubling since it first became available. This financing, since 2017 through FEFISOL, the investment fund in which SIDI is a founding shareholder, and then from SIDI since 2020, has first enabled it to limit payment delays to its producers. And, more generally, to guarantee a degree of autonomy vis-à-vis its buyers, whose pre-financing is both uncertain and insufficient in terms of duration and amount. Today, it's the banks that come to us with their offers," smiles the President of ECAM, "but we prefer to stay with our partner SIDI because only solidarity finance enables us to have, beyond financing, the support that is essential to us.
With nearly 7,000 tonnes of production per year from an area of over 1,2883 ha, ECAM is now one of Côte d'Ivoire's best-known cocoa cooperatives. ECAM provides its members with strong added value, stemming directly from its social and environmental vision: to strengthen the financial autonomy of its members and their families while respecting the environment. In cooperation with its members, the cooperative decides how to use the premiums linked to the Fair Trade and UTZ/Rainforest certifications it has acquired: almost half of these premiums are paid back to producers in proportion to the volumes delivered. The remainder is used for social projects providing direct aid to the poorest, or for public services such as building schools or pumps.
The environmental issue, crucial in the cocoa sector, has been central to the cooperative's approach since 2016: distribution of shade trees to planters as part of an agroecological approach, geolocation of plots to respect protected forest areas. In 2018, it started a program to convert some of its members to organic: 55 are certified organic to date, making it one of the country's 5 organic cooperatives. Around a hundred growers have also begun conversion.
SIDI wishes ECAM every success in the future and will continue its commitment to the development of cocoa that respects producers and their environment.