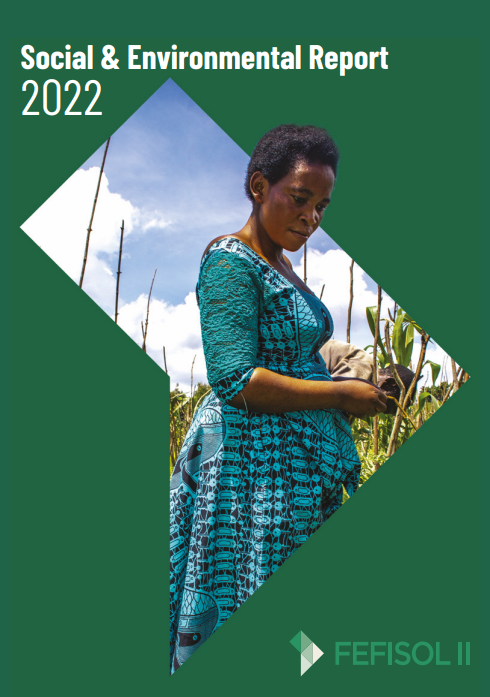 The social & environmental report on the first year of activity of the FEFISOL II fund has just been published!
FEFISOL II is an investment fund dedicated to financing rural microfinance and small-scale family farming in Africa. This is the successor fund to FEFISOL I, launched on the initiative of SIDI and Alterfin for 12 years.
The team is very proud to present achievements that are fully in line with the fund's ambitious social and environmental objectives:
The fund has already financed 18 partners (12 agricultural entities, 6 microfinance institutions) in 11 sub-Saharan African countries.
83% of the farms financed are certified fair trade and/or organic.
69% of the portfolio is invested in countries with a low HDI (Human Development Index)
85% of the microfinance portfolio is dedicated to Tier 2 and Tier 3 institutions: small and medium-sized institutions with assets of less than $50 million and less than $5 million respectively.
1.2 million final beneficiaries, 51% of whom are women
The fund is aligned with the 2X Challenge, the multilateral initiative whose aim is to deploy unprecedented volumes of capital in support of projects that empower women.
The first closing of FEFISOL II took place in May 2022 for 22.5 million euros with the founders (SIDI, Alterfin), European development agencies (BIO, EIB, Proparco) and European private players (Banque Alternative Suisse, Banca Etica Populare, Crédit Coopératif, SOS Faim Luxembourg). This closing is accompanied by a technical assistance package of 1.3 million euros from Proparco and Bio.
On the strength of these results, the FEFISOL II fund aims to close a second closing with new investors by the end of the year.